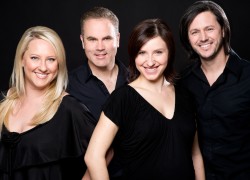 Cathedral full. A good sign.
They promised 'balladic splendour' and they delivered. The Idea of North's Ballads by Candlelight was a treat for the ears and the soul.
Despite the stifling hot weather, St Peter's Cathedral is packed. A soft applause starts and four people walk down, past the front altar. They are The Idea of North (TION). Australia's most successful a cappella vocal ensemble captivated a full house for over an hour in the wonderful acoustics of the cathedral.
After a calming opener of 'Meet me in the middle of the air', showcasing Soprano Sally Cameron's crystal-sharp pitching, they bring an old, Hollywood charm with 'The Nearness of You.' Andrew Piper's steady bass is on display in this song and many others; he also handles the job of percussion with ease.
Tenor Nick Begbie is the ensemble's unofficial MC and provides subtle humour throughout the night, even serenading a member of the audience with Randy Newman's 'Marie'. Or in this case, Randy Newman's 'Wendy'– the name of the unsuspecting woman in the front row. Newman is a favourite composer of theirs and is featured again in TION's version of 'I Think It's Going to Rain Today' from the 1980s film 'Beaches'. Unplanned irony, given the airless heat Adelaide is experiencing. Alto Naomi Crellin's solo is sublime as she is supported by perfectly balanced harmonies.
A plethora of ballads by a range of great composers, including Sting, Antonio Carlos Jobim and Stevie Wonder, follows, every song showcasing the group's amazing range and wondrous melodies.
TION not only engages the audience through song but also through their words, providing background information for many of their pieces. For example, guess which song was originally removed from an iconic film before a petition brought it back in. Here's another hint: it was voted the number one song of the twentieth century. Yes, TION's arrangement of 'Somewhere Over the Rainbow' is the highlight of the night. Sarah's goosebump-worthy performance of Judy Garland's classic garners the loudest and longest applause from the audience. The quartet receives a well deserved encore, and performs a Sinead O'Connor Irish ballad.
TION is celebrating its twentieth anniversary and will prepare to release their new album later this year. There's no doubt this group is extremely talented and versatile, putting a new class and sophistication into a cappella.